Breaking ground on new Norwood station
Published: 14 September 2023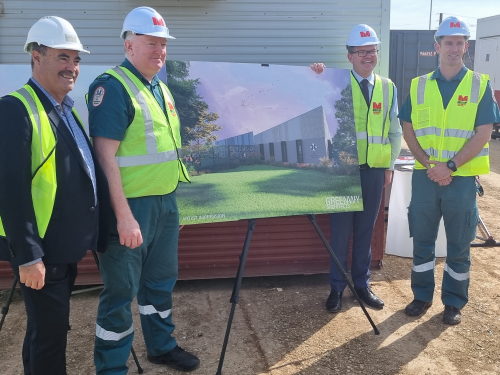 Ground has broken on the new Norwood ambulance station, marking a major milestone in an ambitious project that will deliver 10 brand new stations across the state.
The first sod was turned this morning (14 September 2023) for the new Norwood Ambulance Station, being built on the corner of Portrush and Magill roads.
Full construction will soon be underway, with a concrete pour scheduled for early November.
It's the first of 10 new stations being built, in addition to upgrades of a further 10 stations.
A $187.2 million investment will deliver brand new and completely rebuilt ambulance stations to support our hard-working ambos to care for South Australians.
This includes:
Five new state-of-the-art stations for Norwood, Edwardstown, Woodville, Golden Grove and Adelaide which will also include a new SA Ambulance Service headquarters
Complete rebuilds of four stations at Mount Barker, Gawler, Victor Harbor and Campbelltown
Upgrades at another 10 stations
The new Norwood station will house 28 extra ambos deployed to the eastern suburbs last year under the Government's commitment to recruit 350 more ambos across the state
Since hitting the road, these Norwood crews have filled a high-priority gap, responding to thousands of South Australians in need. The additional resources have played a critical role in significantly improving response times for life-threatening emergencies.
With a budget of $8.5 million, the new station is being built by Mossop Construction and is expected to be complete and operational by mid-2024.  An estimated 30 workers a day will be onsite during construction.
The Norwood station will include a garage capable of accommodating 5 ambulances and 2 light fleet, plus a carport for a further 8 light fleet.
The fit-for-purpose station will also provide training spaces and leadership offices along with capacity for future growth. The training spaces will be a hub for metro-east paramedics, supporting their ongoing skills and development.
Each station will be equipped with solar panels and the external features and façade will incorporate materials to complement the surrounding area. Station landscaping will also be designed to complement the surrounding area.
Following the completion of Norwood, sights will be set on neighbouring ambulance station, Campbelltown.
SAAS will deliver a much larger, fit-for-purpose ambulance station on the existing Campbelltown site, which boasts important access to major arterial roads. The rebuild will commence in late 2024 and will feature a unique two-level design, with room to accommodate St John Ambulance training facilities.
Comments from SAAS Chief Executive Officer, Rob Elliott
This has been a priority project for our operational support teams and to see siteworks commencing is a huge achievement.
This is an important investment in ambulance infrastructure for the eastern suburbs that will support our growing workforce and improving response times.