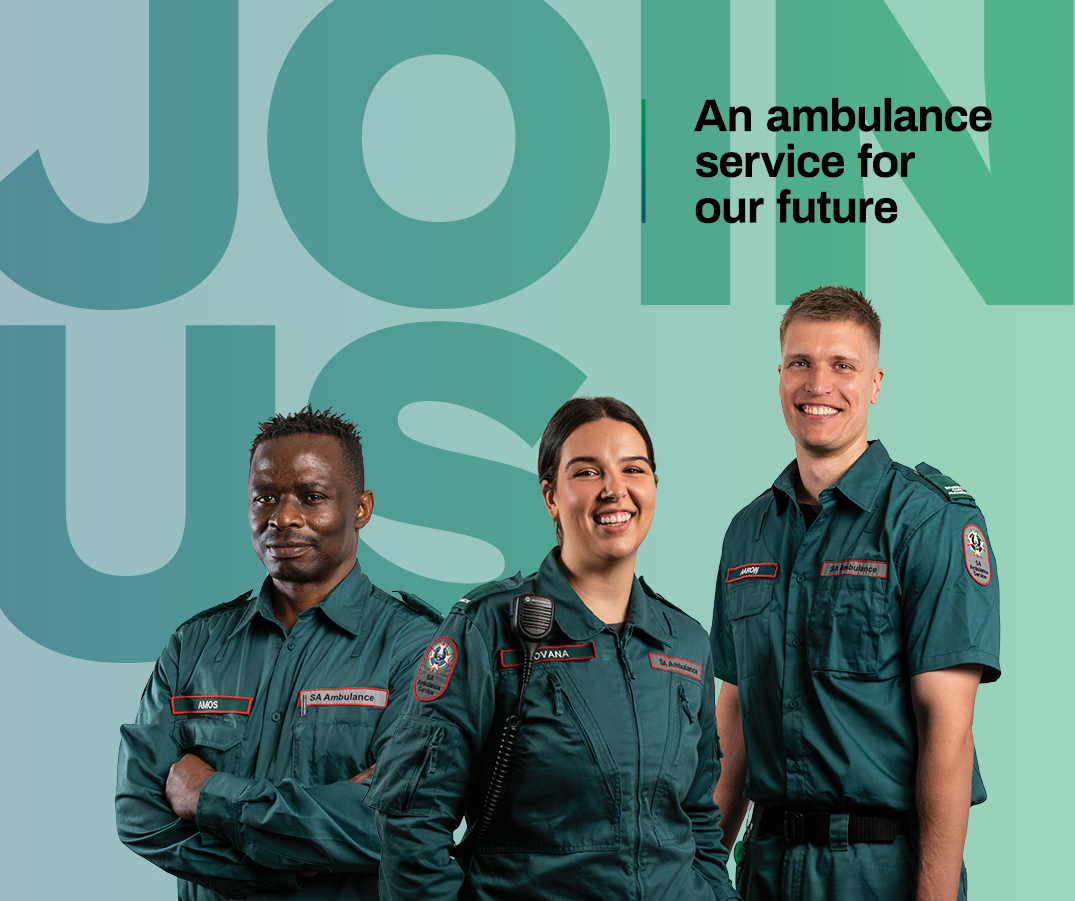 We are recruiting!
SA Ambulance Service has a range of operational and non-operational roles to ensure patient safety is achieved. We are proud of our service and continue to encourage best work practice.
Visit the pages below to learn more about our roles, including eligibility, frequently asked questions and links to apply.
Paramedics
SAAS is currently recruiting for experienced paramedics and experienced intensive care paramedics in Metro and Country, South Australia.
View Listing
EMDSO
Help people navigate medical emergencies by becoming an Emergency Medical Dispatch Support Officers for Adelaide Metro Eastwood.
View Listing
Operational roles
All operational positions require shift work on rotating rosters that cover 24 hours a day. There are various shift configurations and this is detailed in the Role Description for each role.
Learn more about our operational roles:
Emergency Medical Dispatch Support Officers
Emergency Medical Dispatch Support Officers (EMDSOs) answer emergency Triple zero (000) telephone calls as well as non-emergency bookings for ambulance attendance.
MedSTAR Emergency Retrieval
SAAS MedSTAR is South Australia's unique 24 hour emergency medical retrieval service which coordinates medical care, transport and retrieval of patients.
Experienced Paramedic and Experienced Intensive Care Paramedic
SA Ambulance Service are seeking experienced paramedics and experienced intensive care paramedics to join the team of dedicated clinicians on the front line delivering prehospital care.
Paramedic (Internship)
Our Paramedic Internship Program is specifically designed to support recent graduates from university in the transition to working as a paramedic.
Graduate Paramedic Pathway
The SA Ambulance Service (SAAS) Graduated Paramedic Pathway (GPP) is specifically designed to provide an alternate employment pathway to becoming a paramedic.
Patient Transfer Officer and Aboriginal Cadetship Program
SA Ambulance Service Patient Transfer Officers (PTOs) respond to requests for non-emergency care and transportation of patients. We are committed for persons of Aboriginal and Torres Strait Islander descent to apply for our Patient Transfer Officer Cadetship Program.
SA Ambulance Service also has a range of non-operational support roles which work in partnership with our operational staff to ensure patient safety is achieved. These roles range from general administration and customer service roles, through to finance, marketing, human resources, IT, education and other technical services.
All Non-Operational vacancies are advertised on the SA Health Careers and the Government of South Australia IWORKFORSA employment job boards. From time to time we may also advertise specialised roles in employment media such as Seek or other niche employment websites and/or publications.
Aboriginal Employment
SA Ambulance Service is committed to Reconciliation and closing the gap. To improve health outcomes for Aboriginal and Torres Strait Islander peoples, we have developed and implemented an Reconciliation Action Plan.
SA Ambulance Service has an Aboriginal Cadetship Program for Patient Transfer Officer roles. As part of our annual recruitment campaign, two Aboriginal candidates are selected to become cadets. They are offered a full time 12 month position and are allocated a mentor during the period. Additional supports are negotiated as required throughout the program.
SA Ambulance Service also supports a range of Aboriginal employment initiatives across the Government of South Australia including using the Aboriginal Employment Register. This register enables Aboriginal people to register for jobs in the South Australian Public Sector. SA Ambulance Service regularly advertises its vacancies through the Register and ensures Aboriginal people on the register are advised of our major campaigns.
If you are an Aboriginal or Torres Strait Islander person interested in being registered for roles in the Public Sector, click here to obtain further information.
As part of our recruitment practices, SA Ambulance Service has made changes to ensure our selection processes are culturally sound. If you identify as an Aboriginal or Torres Strait Islander person during the selection process, you will receive the following support:
Contacted by one of our current Aboriginal employees prior to an interview to answer any questions and reassure you about the process.
Offered mentoring support through our partners at Tauondi College to assist you with practice for any testing that is required as part of the selection process.
Allocated a "buddy" (one of our Aboriginal employees) when you commence that you can call at any time if you need any help.
Be provided with additional support to achieve training goals (if you undertake a Certificate III or Certificate IV with us).
SA Ambulance Service runs culturally supportive recruitment information sessions and interview selection processes in the metropolitan area.
Training
SA Ambulance Service is a leader in clinical care and paramedic training and is among the best in the country providing state-of-the-art emergency care. Our people are the driving force behind the success of the SA Ambulance Service and we foster a team-oriented and professional working environment.
At SA Ambulance Service all operational roles require a qualification. Some roles require you to hold this prior to commencing, others you will undertake the training when you commence. This is always documented within the Role Description and there is usually additional information about the training on the job boards for that role. Additionally, if it is part of a major campaign, training information will be covered in the Frequently Asked Questions document.
Paramedics (including Intern Paramedics) must hold, as a minimum, a Degree in Paramedicine (or equivalent) and be registered with the Australian Health Practitioner Regulation Agency/Paramedicine Board of Australia prior to commencement.
For operational roles such as Emergency Medical Dispatch Support Officers and Patient Transfer Officers you undertake a Certificate III or Certificate IV qualification once you commence with us. The specific qualifications are detailed on the job boards.
Training commences the day you start and will be conducted over a number of weeks. From there, you are mentored while you undertake on-the-job training. It is expected you complete this training within 6-12 months.
All training provided is paid for by SA Ambulance Service and you are given time off to attend scheduled training sessions.
Recruitment enquiries
Do you have a question about SA Ambulance recruitment?